Keratin Smoothing Treatments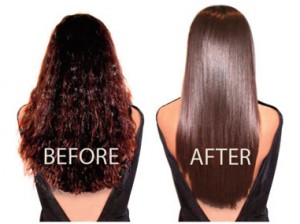 Keratin Complex Smoothing Therapy by Coppola is the premium Keratin based hair treatment in the market today. Why? Because it puts the health of your hair first, using 40% Natural Keratin to encase the hair follicle with a keratin bond. This promotes healing while keeping the toxins in the environment, such as smoke, pollution and ultraviolet rays, from entering the hair. For more information about the Keratin Smoothing treatment click here!
Product benefits:
Contains 40% naturally sourced Keratin
Eliminates up to 95% of frizz
Protects hair against environmental pollutants
Repairs and smooths all hair types
Offers safe hair treatment for customers and stylists

Rewind the strands of time with the new Coppola Keratin Treatment, Keratin and Ceramide, Formaldehyde-Free and Aldehyde-Free Treatment. This versatile treatment doesn't just smooth hair; it safely provides the ultimate anti-aging boost, adds volume and restores hairs youthful look and texture for a minimum of 3 months. The sophisticated formula uses the highest quality ingredients combined with a low pH mechanism to soften and smooth every hair type without the concern of harmful chemicals. Infused with vital Keratin amino acids and damage-reversing Ceramides. – For more information: click here!
Product benefits:
Adds volume and restores hairs youthful look and texture
Provides the ultimate anti-aging boost
Infused with vital Keratin amino acids and damage-reversing Ceramides
Reduces frizz up to 95%
100% true Formaldehyde-Free and Aldehyde-Free system
Leaves hair full-bodied and frizz free for up to 3 months